7 Benefits of Disability Sports and Recreation
Recently, we held a special Family Fun Day packed with entertainment at the Livingston Reserve in Cranbourne East on Sunday, 30 April 2023. It was a chance to raise much needed awareness about supporting footy players with disability.
At The Disability Company, we understand the importance of inclusive sports and recreation. Fortunately, services like disability sports and recreation can provide individuals with disabilities a much-needed opportunity to exercise, socialise with others, and promote a healthy lifestyle.
Physical, developmental, intellectual and mental disabilities can significantly impact one's life. It can affect how you perform daily tasks, engage in social interactions and participate in physical activities. These struggles can also lead to feelings of isolation from society, especially with the rampant stigma.
If you want to stay active despite your situation, this article will define disability sports and recreation activities. We'll also explain the responsibilities of a National Disability Insurance Scheme (NDIS) service provider and why you should participate in these events.
What Are Disability Sports and Recreational Activities?
Sports and recreational activities for PWD are becoming more prevalent and impactful in our society. Like other disability services, these activities let individuals improve their physical and mental health, resulting in immediate and long-term benefits. 
Participating in sports and recreation can also cultivate essential social and life skills, helping to create an inclusive and positive environment. Moreover, they allow individuals of all abilities to socialise with their community and contribute to their well-being. 
What Are the Responsibilities of an NDIS Service Provider?
Reputable NDIS service providers must offer NDIS-approved activities for individuals with disabilities to add structure to their day and improve their outlook on life. Their customised activity programmes must also meet everyone's needs to provide them with the support and encouragement to participate in their favourite activities. Moreover, these professionals must ensure everyone feels independent and accepted daily, helping them be happy and improving their quality of life. 
Besides giving them the needed exercise, these activities and classes can enhance their skills and self-confidence and promote social and community participation. 
Top 7 Benefits of Participating in Disability Sports and Recreation Activities
After defining disability sports and recreation activities and discussing the responsibilities of a reputable NDIS service provider, here's how participating in these ventures can improve your overall well-being.
1. Improve Physical Health and Boost Energy
Staying physically active is essential for everyone, especially those with disabilities. It can prevent the onset of secondary conditions and improve their overall quality of life. This good habit is also crucial for minimising their risk of contracting other chronic diseases and maintaining a healthy weight. Besides having the proper support and guidance, you can stay active and healthy by participating in disability sports and recreational activities. 
Regular participation in this essential service can lead to physical improvements like increased muscle strength, improved balance and motor skills, enhanced heart health and higher energy levels, leading to greater independence and freedom for those with disabilities.
2. Enhance Sleep Quality
Regardless of who you are or where you're from, you'd know that getting a good night's sleep is essential to your overall health. It's crucial in helping your brain process and consolidate memories, regulate emotions, and repair damage. Getting enough sleep can also improve your productivity and focus. Unfortunately, not everyone can sleep well due to stress, pain, medication, and mental health conditions. 
You can improve your sleep quality and well-being by participating in disability sports and recreational activities. Although exercise can cause physical fatigue, it can also be mentally demanding, requiring concentration, critical thinking and quick decision-making. 
You should also know that regularly engaging in strenuous physical activity can increase your time spent in deep sleep. Moreover, it's essential for supporting cardiac health, boosting immune function and controlling stress and anxiety.
3. Minimise Stress 
Stress is a part of daily life, as we regularly face it in school, work, or relationships. However, chronic stress can negatively affect your physical and mental health. It also significantly affects people with disabilities as they encounter unique challenges like physical limitations, limited access to resources and discrimination. 
Besides getting enough rest and finding a solid support system, you can effectively manage stress by regularly participating in disability sports and recreational events. These activities are a great way to alleviate stress as it minimises cortisol and produces endorphins, the chemicals that promote happiness within the body.
4. Build Communication, Teamwork, and Leadership Skills
Solid communication and collaboration skills are essential in succeeding in group activities, as they ensure everyone works efficiently and effectively. Besides being crucial in disability sports and recreational events, these skills are vital in thriving in social and work settings. 
When individuals understand how to work together and communicate effectively, they can achieve common goals. Participating in team sports like Australian Football League (AFL), rugby, and basketball can help develop leadership qualities. Being a team member also requires individuals to work together, whether training, losing or winning. Moreover, regular participants in disability sports and recreation usually have a team mindset, leading to solid leadership skills they can apply daily. 
5. Help Set Goals and Build Confidence 
Sports and recreational activities involve setting, striving for, and achieving objectives. For people with disabilities, these tasks can enhance their self-assurance and self-worth through setting goals. 
This excellent motivational skill can become a valuable life skill they can apply outside the playing centre. It gives them a sense of progress by breaking the steps into more achievable targets. Once they meet these goals, they feel great pride and accomplishment, boosting their self-esteem and motivating them to succeed in other aspects of their lives. 
6. Improve Social Life
The best activities can connect people from diverse backgrounds, regardless of social, cultural or linguistic differences. Disability sports and recreation promote inclusivity and improve the well-being of people with varying disabilities. Participating in these organised events also enables people with disabilities to create positive community relationships. 
7. Help People Handle Drawbacks
No matter how hard you try, your team won't always win every game, and that's okay! Facing disappointment after a poor performance or defeat, learning from experience, and trying again are vital parts of the process. You can acquire the valuable skills of recognising how to enhance and cope with disabilities by participating in disability sports and leisure. 
If you need disability supports and services in Melbourne, reach out to us today on 1800 849 848. We specialise in supporting people with psychosocial, intellectual and mental disabilities. 
Since 2018, The Disability Company has provided over 140,000 hours of quality care to the South East Melbourne community and beyond. The Company is now supporting people with a disability in the East, West and North of Melbourne plus the Gippsland and Bass Coast community.
Are you interested in joining a footy team?
The All-Abilities Cranbourne Eagles Team started in 2008 as part of the Cranbourne Football & Netball Club.
Peter Ryan from FIDA (Football Integration Development Association), who is a great advocate of all sports for people with intellectual impairments, approached the Crnabo to set up the All-Abilities Team.
With the hard work of Frank Johnson and Melanie Lindsey, the All-Abilities Cranbourne Team was born. Originally there was one team but since 2020 there are now two teams.
There are currently 32 players but the teams are always looking for more. You can contact Julie Cass on 0450 494 674 or email cranbourne@fida.org.au. 
FIDA football has different grades depending on the abilities of the players.  Both male and females are encouraged to play. Depending on the grade there can be between 12 and 18 players on the ground.
 If you have a story you would like to share with us, please reach out to our communications team on services@disabilityco.com today.
Check out more events and stories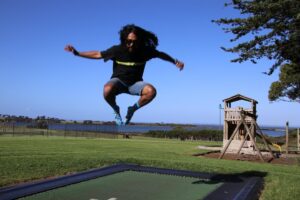 Explore the wide array of disability group activities designed to foster social connections, skills development, and well-being for individuals with psychosocial, intellectual, and dual disabilities in Australia.
Read More »