WHERE
Location
Grattan House, 16-20 Grattan Place, Carlton, Victoria
We are proud to be launching our Social Saturday Events at Grattan House, our Respite Accommodation in the city! From Watch Parties, Trivia to Painting and Picnics in the Park, come down to Grattan House on a Saturday to meet other like-minded people.
This month is a Harry Potter Themed Watch Party and we are excited to be having butter popcorn, choc tops, and sugar-free fizzy drinks. Don't forget to wear your favourite Hogwarts House colours too! We have our own in-house face painter, so get ready to have your face painted in your favourite Hogwarts House colours too.
There are a limited amount of spots available each Saturday for NDIS participants, so don't forget to register your spot today.
Check more events and stories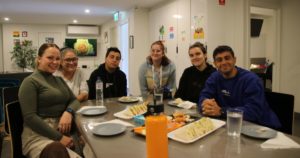 Caring for a loved one who has a disability or chronic illness can be both a rewarding and challenging experience. However, at times, it can get emotionally and physically demanding, and it's not uncommon for caregivers to experience burnout and want a break. Respite care is a service that provides temporary relief to caregivers, giving them a break from their caregiving responsibilities. In this article, we'll explore how respite care can help carers recharge and prevent burnout.
Read More »