Top 5 Disability Influencers on Instagram You Need to Follow
Discover the top 5 disability influencers on Instagram who advocate for disability awareness and inclusion. They use their platform to not only inspire others but advocate for disability awareness, challenge misconceptions and celebrate diversity.

Discussions surrounding disability have come to the forefront of social media, with more people than ever coming forward to share their personal stories, promote inclusion, and provide resources for those living with disabilities.
In this article, we want to introduce you to the top 5 disability influencers on Instagram who have been making waves in the digital world. Through their engaging content, these individuals are dedicating to educating, entertaining but also push boundaries, advocating for change, and provide much-needed representation for people living with disabilities.
So, without further ado, let's delve into the inspiring lives and accomplishments of these remarkable disability influencers on Instagram.
1. Chelsie Hill (@chelsiehill)
Chelsie Hill, a renowned disability rights advocate and dancer, has garnered a massive following of 278,000 on Instagram. All individuals who enjoy her content that showcases her passion for dance, her personal journey as a wheelchair user, and her mission to help others with disabilities embrace their uniqueness. Chelsie is the founder of the Rollettes, an empowering dance team comprised entirely of women in wheelchairs.
Through her social media platform, Chelsie openly shares her experiences in navigating the world as a wheelchair user, providing valuable insights and advice for others in similar situations. Her tenacious spirit in overcoming adversity is both inspiring and empowering, making Chelsie a must-follow influencer in the disability community.
2. Sinead Burke (@thesineadburke)
Sinead Burke, an accomplished writer, activist, and disability advocate, has truly cemented her place in the world of social media. Standing at just 3'5″, Sinead has dwarfism and has used her platform to promote disability inclusivity in the fashion industry.
With over 212,00 followers on Instagram, her account is a visual treasure that features an exciting mix of fashion, insightful discussions, and behind-the-scenes glimpses into her mission to break down barriers in the world of fashion. Besides her advocacy work, Sinead's dedication to empowering others in her community makes her account all the more enjoyable and informative to follow.
3. Alex Dacy (@wheelchair_rapunzel)
Alex Dacy, also known as Wheelchair Rapunzel, is an Instagram powerhouse who has accumulated over 289,000 followers. Alex's content is a delightful blend of candid honesty and humor, focusing on her experiences as a woman with spinal muscular atrophy. She aims to offer a realistic representation of life with a disability while promoting self-acceptance and body positivity.
Alex's posts captures her day-to-day life, the highs and lows and challenges as a wheelchair user. She offers both emotional support and practical advice to her followers. Alex's wit, resilience, and authenticity make her one of the most enlightening and enjoyable disability influencers to follow on Instagram.
4.Jillian Mercado (@jillianmercado)
Fierce and fashionable, Jillian Mercado is making waves in the fashion industry as a model, actress, and disability advocate. Having muscular dystrophy, Jillian has shown that disabilities should never be a barrier to pursuing one's dreams. With over 350,000 Instagram followers, Jillian uses her social media presence to encourage others to embrace their differences and own their power.
Jillian's Instagram feed is full of fashion-forward looks, and heartfelt discussions about her experiences as a person with a disability in the fashion industry. Undoubtedly, Jillian is a trailblazer whose accomplishments and advocacy work inspire countless individuals within the disability community and beyond.
5. Jessica Long (@jessicatatianalong)
Jessica Long, a 13-time Paralympic gold medal-winning swimmer, has made an extraordinary impact on the world of sports. Born with fibular hemimelia, Jessica is a double amputee who has never let her disability hold her back. With over 100,000 followers on Instagram, her account showcases her sporting accomplishments, personal life, and advocacy work within the disability community.
Jessica's inspiring sports journey, coupled with her authentic approach to sharing her experiences, makes her a fantastic disability influencer to follow. Her motivational content reminds us that resilience, determination, and hard work can lead to incredible success.
Each of these amazing disability influencers on Instagram have significantly impacted their followers by spreading awareness, offering support, and breaking barriers within their respective fields. By following the journeys of Chelsie Hill, Sinead Burke, Alex Dacy, Jillian Mercado, and Jessica Long, you can gain a greater understanding of the lived experience of people with disabilities, broaden your perspective, and learn how we can all work together to foster a more inclusive and accessible society.
The Disability Company is an expert in providing assistance to individuals with psychosocial, intellectual, and dual disabilities. If you're in Melbourne and in need of disability support services to enhance your life quality, don't hesitate to contact us now! 1300 897 848
Check more events and stories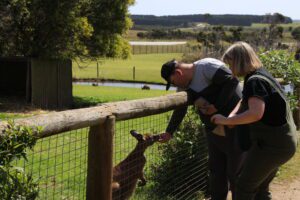 Dive into the role of advocacy services in Victoria as they champion the rights for individuals with disabilities, as well as providing essential support and resources to promote independence and inclusion.
Read More »