What does a quality Registered Care Provider look like?
If you have a disability or are supporting someone in the family with a disability, you must have heard stories of registered care providers that have completely missed the mark in providing a quality care service, perhaps an inability to fill routine shifts or placing people in care that just don't have the right skill set for the specific client.
Chrissy Evans, a mother of an autistic adult, explains how The Disability Company's approach to quality care is different from other registered providers and independent support workers she has used in the past for her son, Bryce. 
Founder and Director of The Disability company, Dylan Maliepaard, spent countless hours understanding The Disability Act, NDIS regulations, advocacy rights, the psychology of care, clinical procedures, and different care service models in Australia and overseas.
The disability sector has changed since the introduction of the National Disability Insurance Scheme (NDIS). In the last two years alone, there has been a rapid growth in the number of registered and unregistered care providers, as well as independent support workers.
Chrissy admits there are so many providers out there to choose from now, but the main difference she's noticed from other big organisations is that The Disability Company is always willing to fill a shift with the right people, no matter how small the hours may be.
Dylan explains that quality care is getting to know both the client and support worker in a meaningful way, assessing both their expectations of care and putting in place a clear care plan and doing regular check-ins to see how the delivery of care can improve. 
At The Disability Company, there is an in-house Registered Nurse, Support Worker Team Leader, and HR Recruitment Team, that work like a family with the Care Coordinators, to do quality performance checks and send care updates to the clients and their support team each month. 
Kim McDonald, a Care Coordinator at The Disability Company explains that the office staff have over 20 years combined experience working with families living with disability, and most are supporting their own family members with disabilities.
After improving their employment frameworks and quality approach to the delivery of care since 2018, The Disability Company has provided over 140,000 hours of quality care to the South-East Melbourne community, and beyond. It has continued to expand its services and now provides short-term accommodation in the city, called Grattan House, which hosts fun and relaxing respite experiences in the city for all ages and abilities.
Check out more events and stories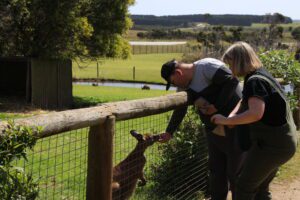 Dive into the role of advocacy services in Victoria as they champion the rights for individuals with disabilities, as well as providing essential support and resources to promote independence and inclusion.
Read More »