Lights and Colours at Grattan House
WHERE
Location
Grattan House, 16-20 Grattan Place, Carlton, Victoria
Winter break is coming up, and why not have a bright and colourful time in the city? Grattan House has a light and colour themed respite 3 night getaway experience in the city.
Join us and we will head to ScienceWorks for a brand new exhibition focusing on the science of light. Kids and adults alike will love this exploration of light and colour, featuring interactive exhibits, neon displays, and even an invisible laser sensor chamber.
With an illuminated colour-mixing station, a giant kaleidoscope and more, the hands-on, interactive play is an excellent introduction to the world of STEM for all ages.
We also will visit the underwater world of the mysterious squid, called "Submerged" at the Melbourne aquarium which emits a glowing blue light from it's body. Plus, we will visit the colourful laneways for Melbourne's Street Art Project called "Flash Forward" with over 40 large scale works.
Our Respite Participants will also get the chance using light torches to make their own Face Silhouette Art at Grattan House, and make their very own scented candles to take home as well.
Limited spots available, don't miss your spot at Lights and Colours at Grattan House coming up in June.
Check more events and stories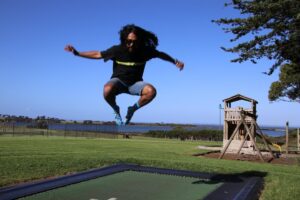 Explore the wide array of disability group activities designed to foster social connections, skills development, and well-being for individuals with psychosocial, intellectual, and dual disabilities in Australia.
Read More »